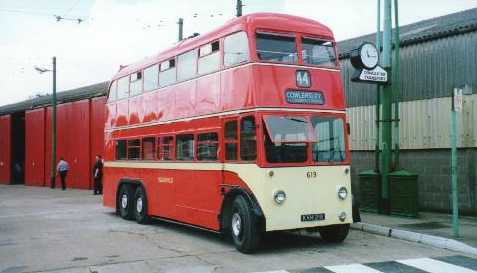 return
619 posed at Sandtoft after being restored in 1999/2000. She was just ready to run in service at Gathering 2000">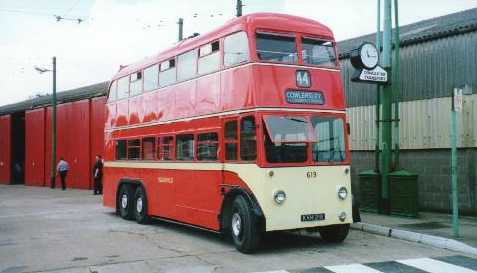 return
619 posed at Sandtoft after being restored in 1999/2000. She was just ready to run in service at Gathering 2000, but she still awaited a front Crest, which was applied in early 2001.
Further restoration concentrated on her interior in subsequent years. See main 619 page for description of the work undertaken on the lower deck in 2001, and the upper deck, cab and exterior work completed in 2003.
The ultimate aim over coming years is to restore her to the original specification. This will involve the re-fitting of Bumpers, orange Trafficator Arms (colloquially known as 'clunkers'), and rear panel with red "STOPPING" sign and orange Indicator Arrows instead of the later square brake light and indicator units.